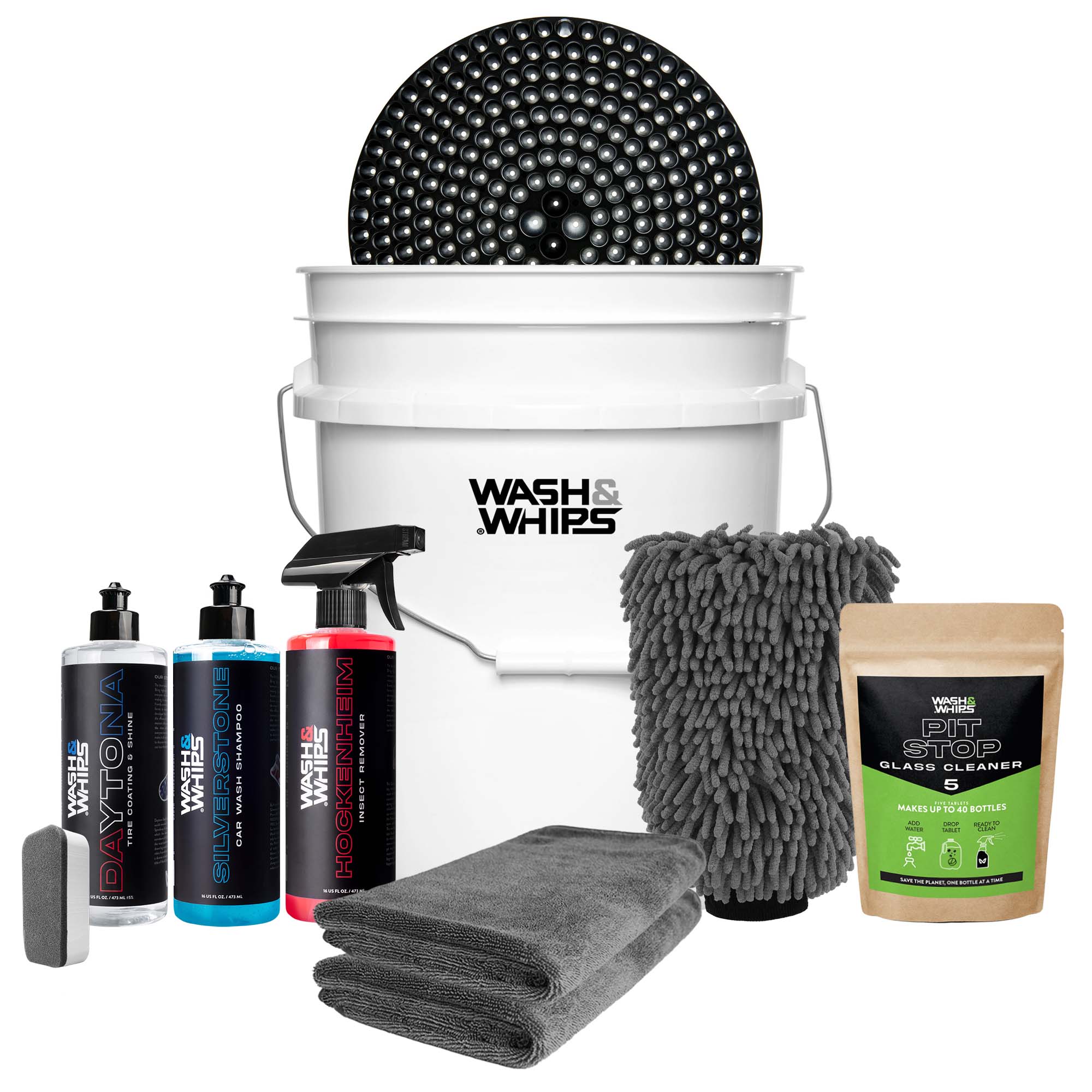 Exterior Car Wash Kit - $95 Value
Kit includes:
• Silverstone Car Shampoo 16oz
• Hockenheim Insect Remover 16oz
• Daytona Tire Shine 16oz with Dressing Applicator Pad
• 5-gallon Bucket with Cyclone Dirt Trap
• Pit Stop Glass Cleaner
• 1x Chenille Mitt, 2x Premium Microfiber Towels

Exterior Car Wash Kit
Unleash the Full Potential of Your Car's Shine with Our Exterior Detailing Bundle! Say goodbye to a lackluster finish, and hello to a deep, glossy, and well-protected exterior. Our comprehensive kit includes everything you need to thoroughly clean, polish, and protect your car, leaving it looking its best. Say goodbye to spending hours at the car wash and hello to a convenient and efficient detailing experience. Upgrade your car care game today with our Wash&Whips Exterior Car Wash Kit!
This exterior car wash kit is great for those who want to wash their cars but do not have all day. Starting off with Silverstone Car Shampoo for a good cleaning, Hockenheim Insect Remover for the front bumpers or heavy build-up, Pit Stop Glass Cleaner for spotless windows, and Daytona Tire Shine for the cherry on top. We have included A bucket with a Chenille Wash Mitt, applicators designed for even tire shine distribution, and premium microfiber towels.
Exterior Car Wash Kit includes:
Silverstone Car Shampoo 16oz
Hockenheim Insect Remover 16oz
Daytona Tire Shine 16oz with Dressing Applicator Pad
5-gallon Bucket with

Pit Stop Particle Interceptor
Pit Stop Glass Cleaner
Usage Warnings & Material Safety Data Sheet:
Please use the link below for the MSDS (Material Safety Data Sheet):
Please Note: Seller makes no warranty, expressed or implied, nor accepts any responsibility for any direct or consequential damages beyond purchase price since seller has no control over user's handling or effect of use.